About RE:DO
RE:DO was created by ex-ice hockey pro Pierre and his wife Linda when they couldn't find a tasty and healthy choice to give their kids before school or before hockey.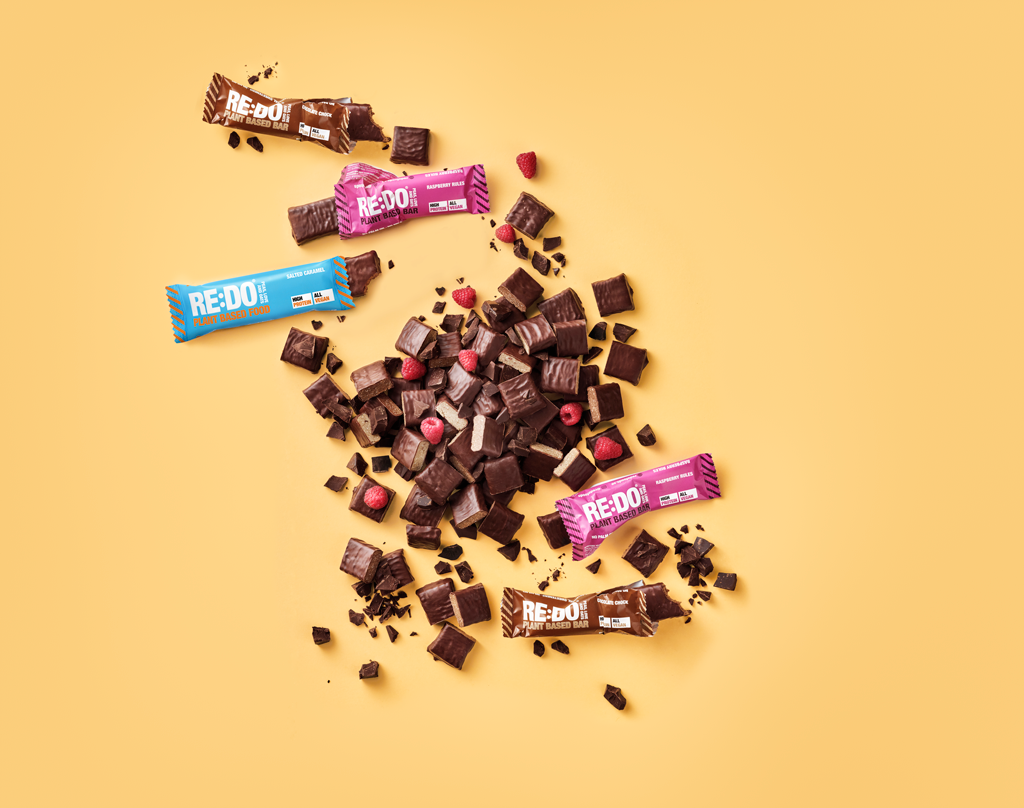 After too many missed breakfasts, sticky protein smoothies and lumpy bowls of porridge they decided to create something themselves, and RE:DO was born.
RE:DO is a family business created for people who love life and don't want to have to think twice about what they eat. Pick a RE:DO and you're good to go.
Eat Like an Olympian
You may choose them for the taste, but it doesn't hurt to know that RE:DO is the only protein bar labelled with "Bra Bränsle". It means "Good Fuel" and is an initiative from the Swedish Olympic Committee. Nutritional experts select food that meet criteria like; wholesome nutrients for athletes, easy access, and sustainability 
– and yup, RE:DO bars check all the boxes.

Regular price

Sale price

$63.60 USD

Unit price

per

Regular price

Sale price

$63.60 USD

Unit price

per

Regular price

Sale price

$63.60 USD

Unit price

per
The perfect snack!
I recently tried the RE:DO protein bars in the Chocolate Chock, Raspberry Rules, and Salted Caramel flavors, and I must say they exceeded my expectations. These bars are not only delicious but also incredibly convenient and filled with healthy ingredients. They make for the perfect snack and are ideal for both pre and post-workout fuel. It's a treat for the taste buds without being overly sugary. The texture is just right – not too chewy or too crumbly. RE:DO protein bars being plant-based, high in protein, and vegan-friendly while still maintaining delicious taste is indeed a winning combination. It's great to see options that cater to a variety of dietary preferences and needs while not compromising on flavor.
One of the standout features of these bars is their versatility. They're not only great for adults but also a hit with kids. The fact that they're easy to bring along makes them a hassle-free choice for on-the-go snacking. Whether you're hitting the gym or just need a quick energy boost, these bars have you covered. Overall, RE:DO protein bars in these flavors are a winning combination of taste and convenience. I highly recommend them to anyone looking for a tasty and nutritious snack option.
The Pinnacle of Protein Bars: RE:DO Sets the Standard!
I've tried countless protein bars in my quest for a clean, vegan, and low glycemic index option, and none have come close to the excellence of RE:DO. These bars are nothing short of extraordinary, and here's why:
Clean, Wholesome Ingredients (⭐⭐⭐⭐⭐)
RE:DO has truly redefined what a protein bar should be. Every ingredient in these bars is carefully selected, with no hidden additives, artificial flavors, or preservatives. It's refreshing to read a label and actually recognize and understand every component. You can feel good about what you're putting into your body with RE:DO.
Vegan Excellence (⭐⭐⭐⭐⭐)
For those of us committed to a plant-based lifestyle, RE:DO is an absolute game-changer. These bars provide an impressive punch of plant-based protein without compromising on taste or texture. They're not just an alternative; they're a triumph in their own right.
Low Glycemic Index, High Sustained Energy (⭐⭐⭐⭐⭐)
Maintaining stable blood sugar levels is paramount, and RE:DO understands this better than any other protein bar on the market. The low glycemic index ensures a gradual release of energy, preventing those dreaded sugar crashes. Whether it's a pre-workout snack or a mid-afternoon pick-me-up, RE:DO keeps you going strong.
Delicious, Satisfying Flavors (⭐⭐⭐⭐⭐)
Let's talk taste! RE:DO doesn't just meet expectations; it surpasses them. The range of flavors is impressive, and each one is a delightful experience for the taste buds. From the rich chocolatey goodness to the nutty textures, every bite is a moment of pure pleasure.
Perfect for On-the-Go (⭐⭐⭐⭐⭐)
Whether you're hitting the gym, heading to the office, or embarking on a hiking adventure, RE:DO is your trusty sidekick. The convenient packaging makes them easy to stash in your bag, ensuring you're always armed with a nutritious snack whenever hunger strikes.